For the last decade or so open concept kitchens have reigned supreme, but recently discussions are popping up about whether they are all they are cracked up to be. Apparently the design many people are taking for granted as the best, isn't the best for everyone.
Here is a straight forward list of the pro's for both open and closed kitchen designs. You be the judge which is best for you.
Open Concept Pros's
Sight lines, over and over again we hear how great it is to be able to keep an eye on the kids while doing our daily duty of preparing the meals.
Socializing with and Hosting Guests, no popping your head out or running around the corner to see how things are going and what you are missing out on. Every gathering people naturally gravitate to the kitchen and that is where the conversations and action is happening until meal time.
Showing off, maybe you are cook worthy of your own food network special, maybe you finally got to instal your dream kitchen with all the amenities you ever wanted. What ever the case may be with an open kitchen you can show it all off without having to say a word.
Maximizing Space and Minimizing Cost, whether you are dealing with a small home to begin with or you are building brand new, having everything open can add to the space feeling large and open. Also building walls with trim, doors, and electrical work can add a lot of cost.
Light, no one likes being left in the dark and cooking in a shadowy room with limited light is not enjoyable either. Most people enjoy the free feeling of seeing everywhere and getting all the light and views from their windows.
Resale Value, though people may be starting to debate if open concept is all it's cracked up to be, for the time being it is still the most popular choice and will help when you are looking to sell your home.
Family Time, sometimes it's hard to pull people away from the tv and get some interaction. When the area is open you can talk about what's on the tv, get your family to sit and chat with you while you are cooking and be comfortable in a way that isn't as possible with a closed kitchen.
Watching TV, who are we kidding, doesn't matter if you're a bachelor of have a family of 10, it's nice sometimes to be able to watch your show while you're chopping the onions.
Traditional Closed Kitchen Pro's
Smell, this one is pretty straight forward. Maybe you just really don't enjoy your entire house smelling like fish all evening because you decided to cook it for dinner. A closed off Kitchen definitely helps with the containment of cooking smells.
Noise, cooking can be all out battle with shuffling pans around, opening and closing everything, and of course shouting four letter words when you drop something or burn yourself. This one comes down to considering what kind of cook you are.
Hiding the mess, one of the most obvious benefits. When you have a house full of company it's nice to be able to put the food out, shut the door, and deal with the mess later. With open kitchens, even if you are not a clean freak, people tend to feel the need to keep them clean all the time simply because they are always in view.
Unique Character, maybe you don't want to have a home just like everyone else. Closed kitchens can have more possibility for unique features, and traditional old charm. Like crown moulding, wainscotting, and interesting doors.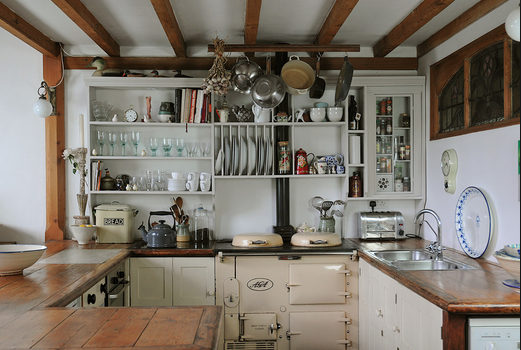 Different Kind of Interaction, not everyone in the home will have access to you while you are in a closed kitchen. This makes for a different pace of communication with more intention and perhaps intimacy when someone is sharing some of the kitchen time with you.
No Distractions, whether you are a beginner cook who knows you'll forget the bread in the oven if anyone talks to you, or if you are a professional in your own right who is taking on technical recipes and needs your focus. Having a closed kitchen can be a blessing for either, you can pump your tunes and get in the zone.
Privacy, everyone needs time to themselves and often we don't get it other than those few sacred moments in the bathroom in the morning...you know... brushing your teeth. Why not enjoy your time cooking as your time alone with your thoughts and tasting the food your cooking. And as the iconic Julia Childs has said, you can drop the chicken and no one knows but you.
Efficiency and Functionality, having more walls for cupboards and not being concerned with accommodating guests can give you more options for the getting the most usage and function out of your kitchen.
So there you have it, the benefits to both layouts. Really what it comes down to is what kind of cook are you, and what are your priorities for the space you have to work with. Open concept is for sure the most common now but, if it's not for you find someone to work with you sees beyond the norm to help create the kitchen you want.
Do you prefer one or the other? Post your a comment and share your thoughts on it.